Why moomoo App by FUTU Singapore Is Great To Invest Globally?
moomoo app, powered by FUTU SG is a newcomer in the stock trading scene latest to arrive in Singapore. Chances are, you might have already seen their advertisements all around.
Notice: This post contains affiliate links, written in collaborations with FUTU Singapore, but opinions are of the author's
Investing is necessary for us to compound our wealth over time. However, where to invest our hard earn capital also plays an important role in growing wealth. Nevertheless, the basic thesis for successful investment returns dolls back to buy great businesses.
And since great businesses are all around the world, hence the need to invest globally.
Here are a few reasons that make FUTU SG a key contender to opening your stock trading account.
1. Licensed and Regulated by the Monetary Authority of Singapore (MAS)
Prior to choosing any brokerage account, the most important criteria is its licenses.
The moomoo app is a stock trading platform offered by moomoo Inc., a subsidiary of Futu Holdings Limited (Futu). Futu and its subsidiaries have 35 licenses globally in major financial markets such as United States, Hong Kong SAR, Singapore and others.
Particularly for Singapore investors, investment products available through the moomoo app are offered by Futu Singapore Pte. Ltd. (Futu SG), a wholly-owned subsidiary of Futu. Futu SG is a broker-dealer and custodian licensed by the Monetary Authority of Singapore, (License No. CMS101000). In Singapore, capital markets products and services on moomoo app are offered by Futu SG.
2. Invest in Singapore, United States and Hong Kong Markets
Due to various reasons, different stock markets around the world offer different kinds of stocks. For example, land-scarced Singapore is actually home to plenty of world-class Real Estate Investment Trusts (REITs). Moreover, with the preferential 0% withholding tax for individual investors, distributions from S-REITs will be fully passed down to unitholders.
For growth investors looking for the next Apple, Amazon or Facebook, the US stock market is another hunting ground for plenty of multi-baggers. Many of these tech companies have delivered stunning market-beating returns to shareholders, and are poised to continue to grow.
Fancy investing in the Electric Vehicle scene? The US market is home to Tesla Inc. (NASDAQ: TSLA) and even the china based EV makers like Nio. Inc. (NYSE: NIO) and Xpeng Inc (NYSE: XPEV).
Lastly, who can be oblivious to the Asia super apps developed by Tencent and Alibaba? These are the bluechip tech stock representatives available on the Hong Kong market. Also, not to forget the next generation of exciting and upcoming apps like Meituan and Bilibili.
With moomoo app, you can now manage your global investment portfolio all under one app!
3. Founded by Employee No.18 of Tencent & Listed on NASDAQ Market
FUTU Holdings Limited's founder is Mr Leaf Li, an ex Tencent Holdings Ltd (HKEX: 0700) employee. Mr Leaf is one of the pioneer members of Tencent, being employee no.18.
After having almost everything with Tencent, Leaf left Tencent to start up FUTU from scratch. This includes developing its proprietary one-stop digitalized investment platform, moomoo app, and even obtaining the relevant licenses.
On the 8th of Mar, the year 2019, FUTU finally went public on the NASDAQ stock exchange under the stock ticker (NASDAQ: FUTU)
Being a listed company, retail investors or users of the app can always follow up on the company's financial health. Investing involves putting our money to work by choosing a trustable brokerage account. Thus, choosing a listed company offering brokerage services would definitely be easier to check on.
4. Founder has massive ownership of the company with Tencent as strategic investor
Mr Leaf himself owns around 37.2% of the ownership of FUTUHoldings. Another 22.8% is held by its ex-employer and strategic investor Tencent Holdings.
Tencent has always had a keen eye for investing in the next emerging company. Given the hefty and sizable investments, both Mr Leaf and Tencent would want to ensure that FUTU continues its credibility and rapid growth.
Other notable strategic investors include venture capital affiliates like Sequoia Capital and Matrix Partners. And with more than 14 million users worldwide, not only has users of the moomoo app grown rapidly, but it also has a forum for stock enthusiasts to share their thoughts and opinions.
5. Compatible on all devices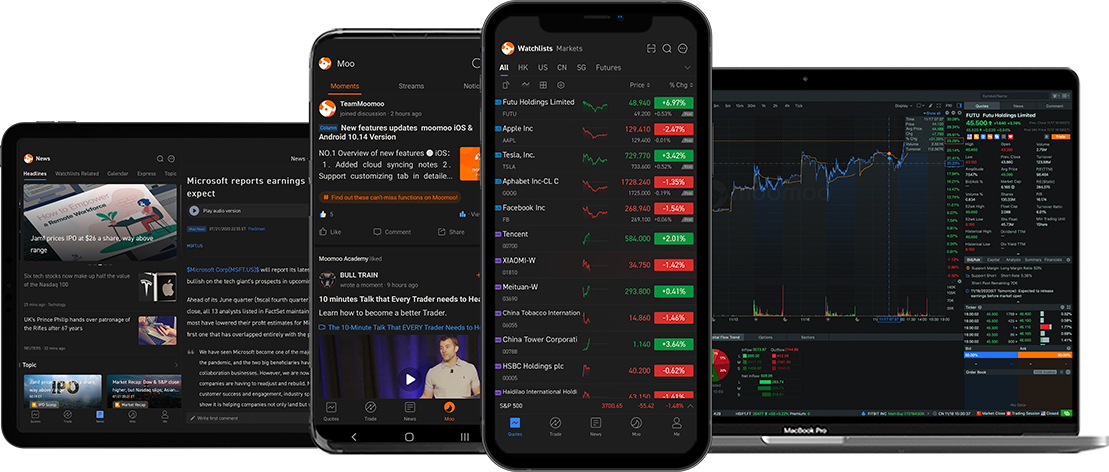 As more and more devices enter our daily lives, and as we become more mobile, it is always great to have an app that is accessible on all devices.
The moomoo app is fine-tuned to launch on all available devices to give you the best user experience. Be it on a large computer screen, or a portable tablet, or even on a mobile phone, you can now access the stock market with any devices seamlessly.
Hats off to FUTU for creating an app that suits all devices, ensuring its users have the best experiences in utilizing the functions of its apps to be in the game at all times.
5. Competitive fees
Being the new kid on the block means moomoo powered by FUTU SG comes with low fees to kickstart your investing journey. Below is a consolidated table of the fees for each respective markets
Hidden fees and complicated expenses often put investors off. But with FUTU SG's transparent breakdown, investors would rest assured that all fees are clearly stated. What's more, FUTU SG definitely does have one of the most competitive fees and commissions as a brokerage trading platform with multiple market access.
6. Jun-Aug'21 New Users' Onboarding Reward
The icing of the cake would be the ongoing Jun-Aug'21 onboarding rewards! New FUTU SG signup customers will get 1 free Apple Inc. share (NASDAQ: AAPL) when they sign up between the 1st of June to the 2nd of August 2021!
Below are the details of the reward:
New FUTU SG users are entitled to a free Apple (AAPL) share (worth about SGD 160).
Commission-free trading for the first 180 days for US, HK and SG Markets (Yes trade free of charge!). Other fees still apply
Free Level 2 market data for US stocks.
Free SGX securities Level 1 real-time market data.
EXTRA: Get a Free NIO stock by achieving level 1 in your profile or executed 5 trades within 30 days after account opening!
Put simply, you will be paid around SGD 160 in Apple (AAPL) shares to test out the entire platform for 180 days with no commission levied for all of your trades.
However, do ensure that you adhere to the conditions and you will be getting your free AAPL shares and free of charge 180 days trading experience.
Successfully open a FUTU SG Securities account between 1st June 2021, 2000hrs SGT and 2nd Aug 2021, 2000 hrs SGT.
Deposited funds worth SGD 2,700 or USD 2,000 or HKD 16,000 within 30 days from account opening.
Completed new user onboarding tutorial within 30 days from account opening.
MyKayaPlus Verdict
If you are just starting to invest, FUTU SG presents itself as a great candidate to kickstart your investment journey. Some people might argue that it is relatively new, but new brokerage also means coming with services and fees that traditional brokerages cannot offer.
Plus, by just trying out the app with just SGD 2,700, you are entitled to 1 AAPL share and almost half a year of commission-free trading.
The only loss, is by missing out of this promotion, and also your own trading performances.
So, click on the link here and try it out yourself!
DISCLAIMER
The information available in this article/report/analysis is for sharing and education purposes only. This is neither a recommendation to purchase or sell any of the shares, securities or other instruments mentioned; nor can it be treated as professional advice to buy, sell or take a position in any shares, securities or other instruments. If you need specific investment advice, please consult the relevant professional investment advice and/or for study or research only.
No warranty is made with respect to the accuracy, adequacy, reliability, suitability, applicability, or completeness of the information contained. The author disclaims any reward or responsibility for any gains or losses arising from direct and indirect use & application of any contents of the article/report/written material