CTOS DIGITAL BERHAD: IPO PROSPECTUS DEEP DIVE
CTOS Digital Berhad is Malaysia's leading Credit Reporting Agency (CRA), which is under the ambit of the Credit Reporting Agencies Act 2010.
A Credit Reporting Agency is a company or party that facilitate credit extensions. As an example, CTOS Digital Berhad provides its users and clients with a suite of credit risk management solutions and services. These solutions are normally related to banking, financial institutions, insurance and many more.
For example, CTOS provides banks with a detailed breakdown of an individual's credit health. Before the approval of loans and credit cards, banks will run a credit health check on an applicant. Hence, clear detail on the applicant's credit health would help a bank gauge its decision on the loan approval process.
Here are things to know before investing into Malaysia's hottest IPO of 2021
1. CTOS is in the business of credit reporting and information services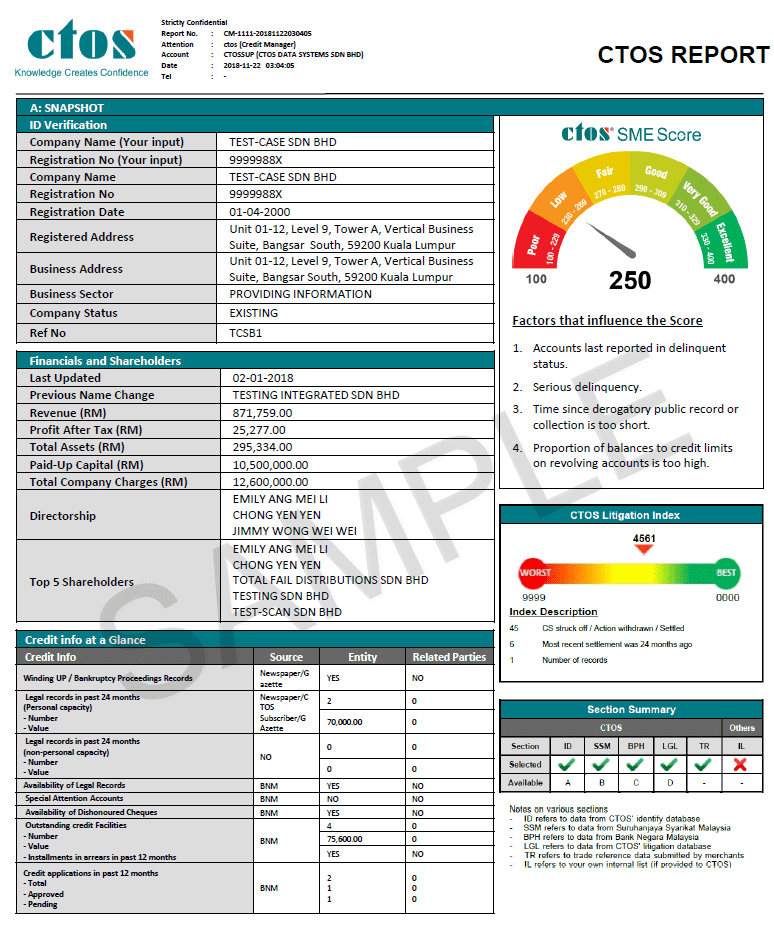 It is important to know what is the business of the company prior to investing in it. CTOS's business and services revolve around credit reporting, digital software-related services and financial informational system.
CTOS's customers are made up of three groups. The first group is the Key Accounts, which are the banks and corporates. Another group of customers are Commercial companies. These include the Small Medium Enterprises (SMEs) in various industries in Malaysia.
Lastly, the Direct-To-Consumer segment made up of Malaysian consumers. CTOS provides registered Malaysians with credit scores and Central Credit Reference Information System (CCRIS) information, directorships and business interests.
2. Market leader in Malaysia's credit reporting industry
Even though the penetration of credit reporting and credit management solutions remain low in Malaysia and South East Asia, CTOS is currently the market leader. It has an estimated market share in terms of revenue of 71.21% in 2020.
This is due to its large credit database of individuals and businesses in Malaysia. It currently has 30 years of data, as it has 30 years of operations.
Hence, being the de-facto partner for various corporate and SMEs, most of their major customer has a long business relationship. These relationships can range from 8 to 19 years!
On top of that, Experian, CTOS' associate, is the second largest CRA in Malaysia.
Separately, its other associate, BOL is the largest company information bureau in Thailand. BOL has an estimated market share of 59% in terms of revenue.
3. Well diversified customers with long relationship
CTOS' top customers are mostly in the banking industry. Customer A, B, C are all in the business of commercial banking. Customer D is also in the banking businesses and financial services. Only Customer E is not in the banking businesses, as it is in the business of sales and leasing of household appliances.
Most of CTOS' top customer has a business relationship of more than 10 years. This could imply that CTOS is offering great services to its current hosts of customers.
4. The IPO consists of an offering of 1,100,000,000 shares
CTOS IPO will consists of 1,100,000,000 shares. Out of the 1.1 billion shares, 936,00,000 shares will be for Institutional Offering. 900,00,000 shares will be Offer Shares and 36,00,000 will be Issue Shares.
Retail Offering will involve 164,000,000 Issue Shares. Only 44,00,000 Issue Shares will be eligible for the Malaysian Public application. This is due to the balance of 120,000,000 shares are reserved for application by Eligible Persons.
5. Plans to expand into new verticals and geographically
Since credit checks and related information help businesses make decisions, CTOS will expand into new potential sectors. These sectors include automotive, real estate and insurance.
Not only that, but it also plans to increase market penetration by growing its customer base. This includes the introduction of new digital solutions.
Lastly, CTOS also plans to pursue acquisition and strategic investments in companies for their growth, which could be into the Asia Pacific region.
It has a 20% stake in Thailand's Business Online Public Company Limited and previously owns CIBI Information Inc in the Philippines.
6. Promising prospects for growth
The credit reporting industry market size in Malaysia has a growth projection of 13.2% CAGR. Therefore, as the market leader of this segment, CTOS is in a great position to take advantage of the growth prospects of this segment.
Credit reporting information and services have become more reliable for business decision making. Thus, the prospects and bullish thesis for CTOS is relatively straight forward.
7. CTOS Singapore and CIBI ceased to be a subsidiary of CTOS Digital Bhd
In a pre-IPO exercise, CTOS Digital Berhad underwent a dividend-in-specie distribution in CTOS SG. Since CIBI is the subsidiary of CTOS Singapore, it has hence ceased to be the subsidiaries of CTOS Digital Bhd too.
Therefore, the IPO of CTOS Digital Berhad will only consists of mostly its Malaysian businesses and a 20% stake of BOL.
8. Use of IPO proceeds for borrowing repayments and acquisitions
IPO proceeds will be mainly for the repayment of bank borrowings, fees and expenses defraying for IPO listing. A portion of it will also be earmarked for future acquisitions.
Around 70.5% of IPO proceeds will be for bank borrowing repayment, while 2.8% will be for defraying fees and IPO expenses. The balance of 26.7% of the proceeds will be capital reserves for potential acquisitions tentative for the next 3 years.
9. Growing historical income statement
CTOS has been reporting a growing revenue for the past 3 years. Even though FY 2020 was an unprecedented year, it still manages to register a growth in revenue and earnings.
Gross margin remains stable around 80% while net profit margin is slightly above 20%.
Cash from operating activities is trending upwards during the 3 year period. This is mainly due to an increase in contract liabilities from advanced billing to its customers.
Cash from investing activities show a huge drawdown due to a few acquisition and investments in FY 2020. These include the RM 91.9 million investment in the acquisition of a 20.0% equity interest in BOL and RM 5.4 million for 51.0% equity interest in CIBI.
To fund for its acquisition and investments, a big part of it is from borrowings, which amounts to RM 193.6 million.
10. Around 50% of loans will be fully repaid with IPO fundings
As of 31 December 2020, total borrowings of the company is RM 132.3 million.
Out of the total RM 132.32 million, USD 22.1 million from RHB Term Loan 1 and RM 45.6 million from RHB Term Loan 2 will be repaid with proceeds from the IPO listing.
MyKayaPlus Verdict
CTOS is a company in a regulated business. It also has been in the sector for a reputable 30 years. Hence, it does enjoy some form of advantages against its peers.
It would definitely be one of the IPO highlights of the Malaysian stock market. But since the full picture is not clear yet, this post will be updated when the total breakdown and valuation is released.
Are you excited for the IPO? Would you subscribe to the IPO shares?
DISCLAIMER
The information available in this article/report/analysis is for sharing and education purposes only. This is neither a recommendation to purchase or sell any of the shares, securities or other instruments mentioned; nor can it be treated as professional advice to buy, sell or take a position in any shares, securities or other instruments. If you need specific investment advice, please consult the relevant professional investment advice and/or for study or research only.
No warranty is made with respect to the accuracy, adequacy, reliability, suitability, applicability, or completeness of the information contained. The author disclaims any reward or responsibility for any gains or losses arising from direct and indirect use & application of any contents of the article/report/written material