What Made Warren Buffett Invest In The US Airlines and His Sudden Divestments?
One of the key highlights that shook the world was Warren Buffett exiting all his US airline investments.
Hence, his portfolio would have undergone major changes ever since we last covered about it here.
Though Warren Buffett did not explicitly mention why he exited his US airline investments, we decided to dig out the numbers and reasons.
And we have a gut feel on why he did it. And to do this, most of our research and info will derive from Airlines For America.
The US Airline Business Background And Prospects (Pre-COVID-19)
Airline companies are aplenty in the United States of America. As of currently, there are close to 20 airline companies in the USA.
Strangely, fares have typically become cheaper over the years. However, the growth of the US population and the passengers per capita have made the US airline industry one of the biggest.
Contrary to the beliefs, the US airline industry does command a reasonable pre-tax profit margin.
To understand the Pre-COVID-19 prospects of the US airline industry, keep in mind the US is a big country. How big? The US has 50 states and 6 time zones. And around 4% of the total global population comes from the US. And it is still growing.
Travelling within such a big country means airlines is one of/the only modes of transportation which is fast. Coast to coast travelling in the US by flight is approximately 4-6 hours. By car, it takes 4-6 days with 8 hours drive every day. The size of the country and the least time to travel puts the US airlines in a favourable growth position.
Most airlines, if not all, have been reporting increasing average seats per domestic departure.
If airline companies are growing, surely the airports and other aviation infrastructures must also be growing too right? Well, they are. Capital expenditures have been on the rise ever since the year 2014.
And just to manage expectations, we are talking about huge capital expenditure here.
The US airline industry has always been growing regardless of the financial crisis. But they are not recession-proof, as they face temporary dips in the highlighted grey line periods. However, growth has always continued on as time goes by.
The Bull Case To Invest In The US Airlines
Show me the money.
It's always about profits and cash flow with surety if Warren Buffett were to invest in something.
And the numbers certainly does show some promising trends. Most of the US airline companies generate sufficient cash from their operations. Capital improvements and customer experiences are the key improvement areas that are ongoing improvements via cash generated from the business. Of course, shareholders are also on the beneficial end for being vested in the airline industry.
Which is why probably Warren Buffett bought around 10% of all 4 biggest US airlines. They are Delta Air Lines, Inc., Southwest Airlines Co., United Airlines Holdings Inc. and American Airlines Group Inc.
And it does make sense to be investing in the US airline industry. Since Warren Buffett is a long term investor, the future and the financials of the airline companies do look promising.
Looking also at the growth of the fleet size of the airline companies previously vested, they are the juggernauts. The fourth-biggest company, United Airlines, carries 3 times more enplaned passengers than the fifth-biggest company!
Investing in the biggest 4 airline companies, run by competitive management with a growth surety seems foolproof. Judging the positive prospects and growth potential, we may deduce why Warren Buffett is positive with US airline companies.
The Bear Case To Invest In The US Airlines
COVID-19 pandemic.
The latest pandemic to hit mankind and sweep the world into topsy-turvy. Though not as lethal as SARS and Ebola, it's contagiousness has shut down most of the world. In effect, businesses close and planes stay grounded. The sight of grounded aeroplanes cramming up the airport is a spectacle no one has imagined of.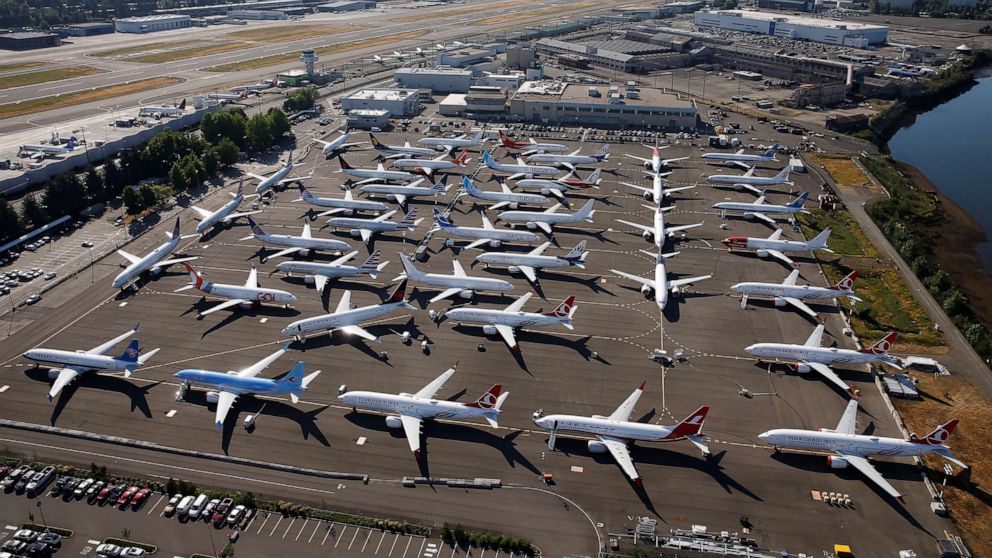 With their sole operations down and fixed costs to pay, it is definitely the worst time to be managing an airline company. As a conclusion, Warren Buffett personally highlighted the pain. Each airline he invested is going to borrow an average of USD 10 – 12 billion each.
If it wasn't for COVID-19, Warren Buffett would have even bought other airline companies as well. But, COVID-19 came as an awakening to him and all of us. This pandemic actually pulls us back the drawing board to restudy and reassess our risk analysis.
Judging from information and history, we all know pandemics are a short term challenge. Therefore, this hiccup should not have changed Warren Buffett's perception of US airline prospects.
What actually made him realize his mistake?
A Permanent Change In The Norm?
If you watched or read through the Berkshire Hathaway Inc. AGM transcript, Warren Buffett senses a change. A change that things would never be the same again once the world reopens back. Part of that is exhibited by the resiliency of mankind. Even though under lockdown, there are still meetings held, emails sent, and work is done. Science and technology have allowed most companies to stay in productivity.
Hence, it is possible for the world to continue contributing without employees physically being at the office. Maybe it may take time to accept the new norm to form a tipping point. But after COVID-19, companies around the world are well prepared to invest in "work from home" software and resources.
The Potential Nail To The Coffin of The US Airline Industry?
Business travel is a big contributor to US airline companies. The contribution goes to as high as 12% of an airline's passenger and contributing to almost 75% to profits.
Most likely, the new norm that Warren Buffett is so fearful of, is the change of how work is conducted. Looking back at how big the United States is, companies usually have multiple office and branches. And airline companies are the default transportation mode to get from point A to point B with the shortest time. Executives can be travelling around the States for meetings and business proposals. Hence, business travels have been the norm.
Backtracking the fear that ultimately a permanent change in work habits, business travels could be bracing for a major impact. Due to that, we guess this is the worst fear that Warren Buffett foresees for the US airline industry. And he did jokingly admit that Charlie Munger actually added Zoom Video Conferencing as his new repertoire. Bear in mind Munger is close to 100 years old. Who says you can't teach an old dog new tricks?
MyKayaPlus Verdict
All in all, Warren Buffett admitted his mistakes and realized huge losses on his airline investments. Revisiting his investing principles, we should always hold on to a great investment. Perhaps, this sheds light on his rationales that the US airline could be forever impacted by a change of norm.
But changes happen rapidly these days. And even the world's greatest investor is vulnerable to mistakes. However, we are thankful that we are not in the position to pull the plug and realizing a loss at that magnitude. In conclusion, it is definitely much better to learn from someone else's mistakes cost-free!
DISCLAIMER
The information available in this article/report/analysis is for sharing and education purposes only. This is neither a recommendation to purchase or sell any of the shares, securities or other instruments mentioned; nor can it be treated as professional advice to buy, sell or take a position in any shares, securities or other instruments. If you need specific investment advice, please consult the relevant professional investment advice and/or for study or research only.
No warranty is made with respect to the accuracy, adequacy, reliability, suitability, applicability, or completeness of the information contained. The author disclaims any reward or responsibility for any gains or losses arising from direct and indirect use & application of any contents of the article/report/written material