Farm Fresh Berhad – 8 Things To Know Before Investing
Farm Fresh Berhad is the next company eyeing for IPO after CTOS Digital Berhad (KLSE: CTOS) made its public listing in July 2021. Touted as one of the most anticipated IPOs of the year, Farm Fresh is also an aspiring Malaysia growth story.
Here are things you need to know about Farm Fresh Berhad before putting your hard-earned money into subscribing to their IPO.
---
---
1. Farm Fresh is a "grass-to-glass" business model
What does the "grass-to-glass" business model mean? It means that Farm Fresh is in a vertically integrated dairy business. In a much concise definition, Farm Fresh's business starts from dairy cow farming until the packaging of its wholesome and delicious milk reaches consumers' drinking glasses safely.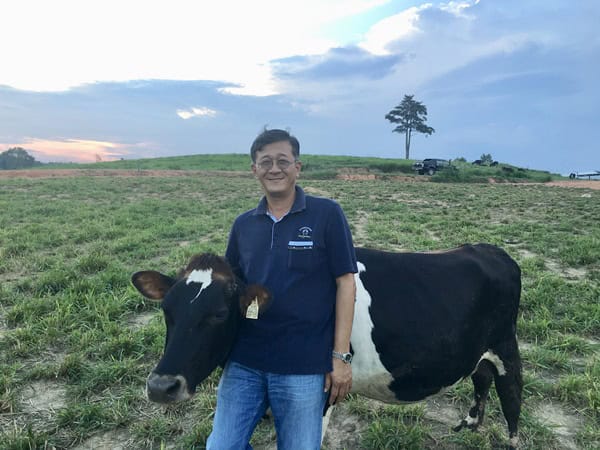 Back then, the founder and managing director of Farm Fresh, Mr Loi Tuan Ee lamented the lack of fresh milk options. To solve this pain point, he quit his high flying corporate job to venture into dairy farming. Often branded as mad and crazy back then, Mr Loi's efforts paid off, as his company is producing one of Malaysia's favourite milk brands.
Even though the company has grown significantly, the core belief is that nothing is purer and better than fresh dairy stays the same. Hence, the company underwent a massive expansion and increased its dairy cattle herd size as well. This ensures that operationally, they will have more milk, to fuel the continued consumer growth and appetite for its dairy products.
2. It has more than liquid milk in its portfolio, and is Malaysia's well-loved homegrown dairy brand
Initially just having its footprint in fresh milk, Farm Fresh quickly innovate to increase its product portfolio. As of today, it also has yoghurt, yoghurt drinks, goat's milk and many other dairy products.
According to Frost & Sullivan, Farm Fresh is a brand with a significant market share in Malaysia. As of 2020, it has an overall market share of 18% for ready-to-drink (RTD) milk.
3. It has one of the largest gene bank for the Australian Friesian Sahiwal (AFS) breed of dairy cattle
One aspect of Farm Fresh that not many people know of, is that it owns one of the largest gene banks for a certain breed of dairy cattle. This breed is known as the Australian Friesian Sahiwal (AFS) breed. The AFS makes up almost all of Farm Fresh's breed in its Malaysia farm due to its high resistance to heat, ticks, blood parasites. Moreover, the AFS also has good tolerance to humidity and benefit from a robust fertility rate.
Hence, this is also the reason why it is possible to start a dairy farm in Malaysia and obtain a decent milk yield. Milk producing countries usually depend on a more temperate country to raise dairy cattle.
To further continue their gene bank and breeding capabilities, Farm Fresh acquired AFS Dairy Company Australia Pty Ltd. This acquisition makes Farm Fresh the owner of the largest remaining gene banks for the AFS dairy breed.
This ensures that it can continue to further optimize its breeding programme to obtain a higher milk yield specimen.
4. Mr Loi Has 70% shareholding of Farm Fresh pre-IPO
Mr Loi and his family have a collective 70% shareholding ownership on Farm Fresh. The remaining 30% is under Agrifood Resources, which is Khazanah Nasional Berhad's subsidiary. This also comes as no surprise as CIMB Group Holdings Berhad (KLSE: CIMB) is chosen as the Sole Principal Adviser and Managing Underwriter of this IPO.
5. It is already a profitable company
Farm Fresh is showing explosive growth in its top line. It is currently reporting a 2-year 65.89% CAGR. As for its downline, it has grown at a 2-year 14.91% CAGR.
A major chunk of its expenses is attributable to selling and distribution. A deep dive into its selling and distribution expenses highlights that it is mostly coming from transportation and logistic expenses.
Fresh raw milk from the farms will need to be transported to pasteurizing and packing facilities. Hence, it will contribute to a significant portion of Farm Fresh's expenses.
6. It is still net cash flow negative
Farm Fresh's operating cash flow is improving well for the latest 3 years. But it is still a net cash flow negative company. The amount of cash flow used for investing activities often surpasses its operating cash flow. Farm Fresh's investing cash flow for the past 2 years ranges between RM 85 million to RM 92 million. This is mostly due to its capital expenditure within Malaysia and in Australia, where it has a dairy farm in Kyabram, Victoria.
It will eventually also set up a new farm in Taiping, Perak. This will also require it to expand its current herd size to ensure that it can obtain more raw milk.
As for the cash inflow from financing activities for the past 3 years, it is mainly via capital injection and also loans and borrowings.
7. IPO proceeds will be mainly for capital expenditure
Farm Fresh will not be resting its laurels. More than half of its public proceeds will be for further capital expenditure of the Group. 46.5% of the proceeds will be for the establishment of a new manufacturing hub and farm in Malaysia. On top of that, 20% also be for their Australian facility expansion.
Lastly, 13.3% will be for regional expansion, particularly in Indonesia and the Philippines.
8. Indicative valuation of trailing price to earning ratio of 55 times
With an alleged RM 2 billion IPO valuation, we can work out its trailing price to earnings ratio to roughly 55 times.
The valuation is steep on the surface but given its expansion plans and rapid top-line growth, many might consider it to be fair.
By dividing its rumoured market cap with its trailing net profit after tax attributable to shareholders, we can obtain a trailing P/E ratio of 55x.
MyKayaPlus Verdict
Farm Fresh is indeed a company to look out for. Its marketing strategies, branding, and expansion have certainly shown that it is capable to take on the existing dairy big boys in the market.
Its growth in market share among all dairy segments, plus the hunger to expand beyond Malaysia, could well justify its hefty price tag.
Then again, it does not mean that growth outside of Malaysia will be smooth sailing. There are plenty of competitors in other markets as well.
Do you think Farm Fresh can grow beyond Malaysia to justify its steep valuation? If so, would you be subscribing to their IPO? Let us know in the comments section!
DISCLAIMER
The information available in this article/report/analysis is for sharing and education purposes only. This is neither a recommendation to purchase or sell any of the shares, securities or other instruments mentioned; nor can it be treated as professional advice to buy, sell or take a position in any shares, securities or other instruments. If you need specific investment advice, please consult the relevant professional investment advice and/or for study or research only.
No warranty is made with respect to the accuracy, adequacy, reliability, suitability, applicability, or completeness of the information contained. The author disclaims any reward or responsibility for any gains or losses arising from direct and indirect use & application of any contents of the article/report/written material